Foto l Photo: Michél Kekulé
Foto l Photo: Michél Kekulé
Foto l Photo: Michél Kekulé
Foto l Photo: Michél Kekulé
Foto l Photo: Michél Kekulé
Foto l Photo: Michél Kekulé
Foto l Photo: Michél Kekulé
Foto l Photo: Michél Kekulé
Foto l Photo: Michél Kekulé
Foto l Photo: Michél Kekulé
Studio Beisel
St. Beisel
22.10.2021 – 09.01.2022
Curated by Dr. Nadia Ismail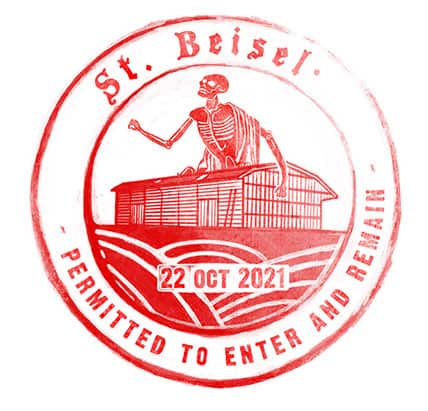 Crypto art, NFTs and St. Beisel
NFT – Non Fungible Token  – is a digital file that exists exclusively in virtual space. The token is unique as a fixed and defined form. 
For more information click 
here
. 
During the exhibition, the website 
studiobeisel.com
 will be transformed into a virtual showroom where curious visitors as well as potential buyers can familiarise themselves with the work prior to the NFT fair on 9 January 2022 at Kunsthalle Giessen.
Willkommensgruß von Oberbürgermeisterin Dietlind Grabe-Bolz anlässlich der Ausstellung St. Beisel von Studio Beisel
Einführung von Dr. Nadia Ismail, Leiterin der Kunsthalle Gießen, zur Ausstellung St. Beisel von Studio Beisel
Künstlerstatement von Studio Beisel zur Ausstellung St. Beisel
With their walk-through installation, the artist duo Studio Beisel invites you on a journey between this world and beyond. Visitors traverse various landscapes through five rooms, both physically and mentally. Parallel to the physical experience, Laurenz Raschke and Kajetan Skurski conquer the virtual space in the form of artworks composed of Non-Fungible Tokens. These NFTs exist only virtually and are based on the traces left behind by visitors, which can be experienced on 'studiobeisel.com' and ultimately purchased. The both spiritual and digital journey thematises humorously the human desire to leave an imprint on the ephemeral world.
A pilgrim passport grants access to the individual rooms.
 
Laurenz Raschke (*1989 in Halle / Saale) and Kajetan Skurski (*1991 in Gdynia) studied under Prof. Heiner Goebbels at the Institute for Applied Theatre Studies in Gießen and have been working together at the intersection of visual and performing arts since 2015. Various exhibitions and performances include, i. a. Palais de la Porte Doreé (Paris), Schillertage (Nationaltheater Mannheim), Hessische Theatertage, Fast Forward Festival for Young Directors, Frankfurter Kunstverein.
Opening day
Friday, October 22th, 2021, 12 – 6 pm
 
Official online greeting
Dietlind Grabe-Bolz
Mayor of the City of Gießen
 
Introduction
Dr. Nadia Ismail
Director Kunsthalle Gießen
 
Artist statement
Studio Beisel
 
The artists are present
 
Our art guides will be present during the opening day to answer your questions.
Accompanying Programme
(Subject to change)
Finissage with a performance by Studio Beisel
Sunday, January 9th, 2022, 4 pm
 
Artist talk
Sunday, January 9th, 2022, 6 pm
 
Art education in individual
conversations
Tuesdays 4–6 pm, Saturdays 3–5 pm